Donor Resources & Contacts
Everything You Need to Know
However you choose to support the people and programs of URI, we are here to provide you with the information you need.
The Office of Donor Relations and Engagement cultivates meaningful relationships between URI and its alumni and friends, supporting the University's mission and creating a positive experience for those who choose to give. The office places an emphasis on providing accurate and timely information about the use and impact of individual gifts.
Donor Relations staff also work with students to thank our valued scholarship donors and stewards. If you have any questions, please feel free to contact Associate Vice President, Donor Relations and Engagement Jacqueline Nowell at 401.874.4221 or jnowell@uri.edu.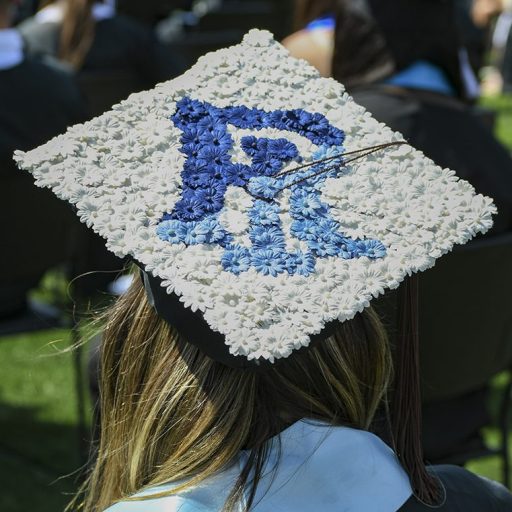 Documents for Reference
You can find details here about scholarships, our endowment, and more.
Frequently Asked Questions
The vast majority of American public colleges and universities have separate foundations, organized as nonprofit independent corporations. An independent, nonprofit foundation results in greater efficiencies and benefits the University by promoting proper stewardship of private gifts, providing responsiveness, investing and managing assets strategically, engaging volunteers as informed advocates, and ensuring confidentiality of donor records.

Learn about the methods of giving here. You can choose to designate your gift to any college, school, or program at URI, supporting what matters most to you. Whether your gift is used to support the annual fund, which helps support emerging opportunities at URI, an endowment supporting student scholarships, or any other purpose, it will have an impact on the overall academic experience at URI.

The University and the URI Foundation & Alumni Engagement, committed to assuring the critical advancement work that benefits our faculty and students and protects and enhances the endowment, designates five percent of every gift towards the Strategic Reinvestment Fund.

The URIFAE spending policy, set by its board of directors, sets an overall spending rate each fiscal year to balance current needs with long-term growth.

Yes, the URI Foundation & Alumni Engagement is a qualified charity that provides donors with tax benefits to the full extent of the law. Your gift qualifies for a tax-deduction in accordance with IRS regulations, during the calendar year that you make your gift. You will receive a gift receipt for your files. Please consult your tax professional for more information.

Your employer may match charitable contributions. Just search your employer on this page, and contact your human resources office for any required documentation.

The University maintains a listing of all available scholarships here.

A significant number of scholarships are awarded each year at URI. The URI Foundation & Alumni Engagement manages the investment of endowed funds but not the awarding of those scholarships. The University's Office of Enrollment Services awards most scholarships, with some awarded by academic departments. If you have any questions, contact Enrollment Services at 401.874.9500.

We are happy to respect your wishes to code your gift as anonymous, while still providing you with proper gift receipts for your records. If you would like to make an anonymous gift when donating through our online giving website, please check the box "I would like my gift to be anonymous." If you are making your gift by mail, please contact Rebecca Vigeant in Gift Processing at 401.874.4786.

Please contact Rebecca Vigeant in Gift Processing at 401.874.4786.

Memorial Gifts are gifts made in memory of or in honor of a teacher, student, relative or friend and are generous and thoughtful gestures recognizing an individual's life and accomplishments. Gifts of celebration can be made to mark retirements, birthdays or other special milestones.

When an honorary, celebration or memorial gift is made, the URI Foundation & Alumni Engagement notifies the honoree or next of kin. To make an honorary/celebratory gift, please send a letter indicating the purpose of your gift as well as the name and address of the honoree. For memorial gifts, if a memorial fund has not previously been established, your check should include the name of the honoree and the name and address of his/her next of kin.
How to Give to URI
Online giving is the quickest, most convenient method of making a gift. Our online giving form is secure and accessible via any computer or mobile device.

Make your check payable to the "University of Rhode Island Foundation & Alumni Engagement" and send it to the following address:

URI Foundation & Alumni Engagement
P.O. Box 1700
Kingston, RI 02881

Please include a note with your check letting us know where you would like your gift to be allocated. If you would like to make your gift in honor of a professor, student, relative, or friend, you can find more on gifts of tribute here.

If you choose to pay by credit card and prefer to do it over the phone, please contact Rebecca Vigeant at 401.874.4786 or rvigeant@uri.edu.

To make your gift via wire transfer, please contact our finance department at 401.874.5601.

URI faculty and staff can deduct gifts from their paycheck, either as a one-time gift or in installments, by filling out the payroll deduction form.

Many employers sponsor matching gift programs. Find out if your employer participates.

Matching Gift

and

Volunteer Grant

information provided by

You can make your distribution from your donor advised fund (DAF) and have it sent directly to University of Rhode Island Foundation & Alumni Engagement. To contribute to URIFAE through your DAF, go to Donor Advised Funds. You can learn more about setting up a DAF and its potential tax advantages.