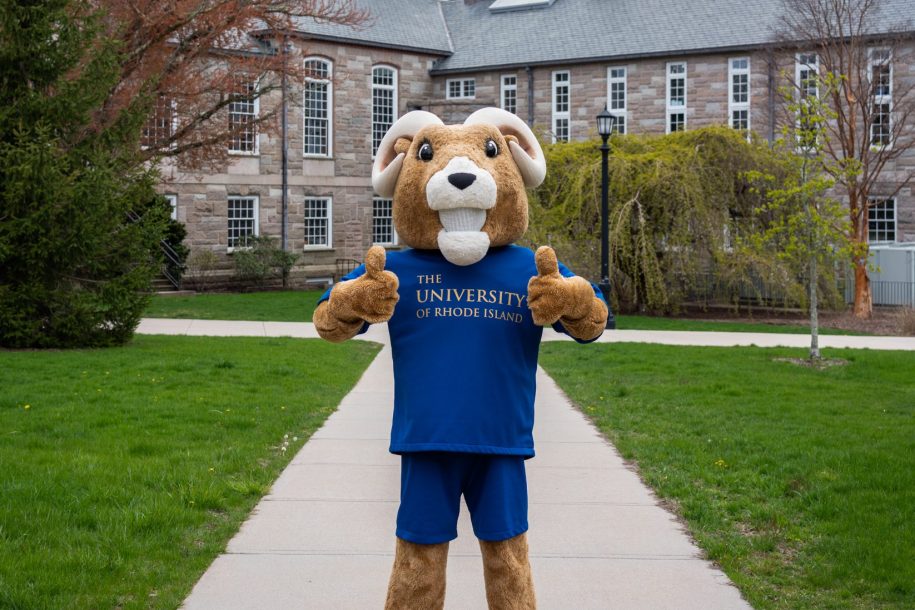 All About Rhody
Over a century ago, on March 8, 1923, The Ram became the University of Rhode Island mascot. Rhody the Ram is the spirit, the hype man, and the heart of our adoration for all things URI. First making a live appearance on November 21, 1929, Rhody has been a staple at University events ever since.
Always the life of the party, Rhody is the perfect special guest to invite to your next event. Rhody maintains a very busy schedule, so all appearances will be booked at the discretion of the URI Alumni Engagement office on a first-come, first-served basis, dependent on availability.
Please submit your request at least four weeks before your scheduled event. Requests submitted after that time may not be fulfilled.
Rates
URI-recognized club, organization, or academic program/campus department: Free
K-12 school visit: $25/hour
Nonprofit/fundraiser: $50/hour
Birthday/graduation party/wedding: $75/hour
For-profit organization appearance/special event: $100/hour
One hour minimum applies to all appearances. All prices are subject to change in accordance with event location and availability. For off-campus events, a mileage reimbursement charge at the current IRS rate will be added to the fee. In many cases, Rhody will need space to change before and after your event.