The Rhody Advantage
Your URI experience earns you lifelong access to valuable tools and resources that help you stay connected to URI and thrive in your career. Set up your alumni account to manage your information and preferences, use the alumni directory to reconnect with friends, network with other alumni on URI CareerConnect, and explore a host of other benefits and tools.
Need a copy of your transcript?
Request a transcript from enrollment services.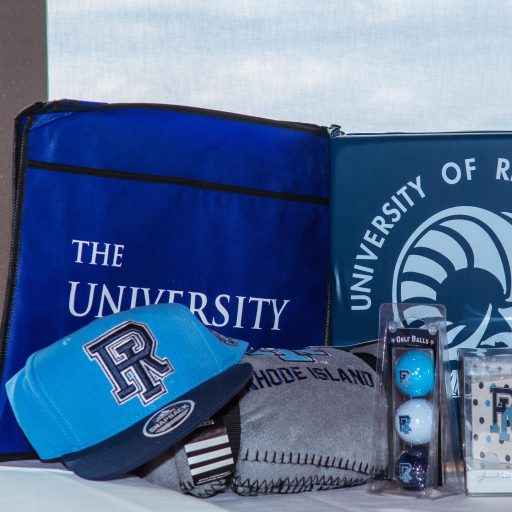 Shop Rhody
Leave your mark on the Quad with a personalized URI Century Walk brick, and stock up on your favorite Rhody gear from the URI Campus Store. Use alumni discounts to save on insurance, travel, gifts, and other items and services.
Frequently Asked Questions
If you have never logged in before, you will need to set up a user name and password. Go to the login page and click "First Time Login."

Follow the steps to locate your account in our system.
You will need your constituent ID, which is printed on the mailing label of URI Magazine. If you do not have a copy of the magazine, email alumni@uri.edu and we will send it to you.
Follow the steps to choose a user name and password.

Go to the login page and click "Reset My Password." A reset link will be sent to the email address associated with your alumni account.

If you do not receive the link or no longer have access to the email account in our system, email us at alumni@uri.edu.

Yes, your information is secure. The URI Foundation & Alumni Engagement does not provide address lists to the public. Only the URIFAE and its approved partners have access to your information.

As a matter of policy, when we have valid email addresses for alumni, we automatically add them to our subscriptions list. We understand that some alumni may choose to unsubscribe, and we provide that option at the bottom of every email we send.

We follow the same policy with printed materials. When we have a valid postal mailing address for an alum, we automatically send URI Magazine, our alumni magazine.

Yes. Log in to your alumni account and go to your personal page. You can change your email preferences in the Subscription Management tab.

Log in to your personal page and click "Class Notes." Click "Create" to add a new class note. Class notes are displayed here.

By setting up your alumni account, you have access to the Alumni Directory. This free directory allows you to search for fellow alumni using a variety of criteria, including class year and geographic area. To protect privacy, log-in is required.

Yes, you can choose to hide your address on your personal page. Click the Edit button to edit your profile. Fields marked "Show" will be displayed in your alumni directory profile. Click to "Hide" any fields you do not want displayed in the directory.

Your gift of any size supporting the University will have a great impact. To make an online gift, simply complete this form.

Visit the URI parking page for campus map with parking lots, as well as information about registering your vehicle.

You can change your postal and email address on our website. To protect your privacy, log-in is required.

Alumni Engagement offers a range of services to alumni/campus groups:

If you are an alum looking to bring URI friends together, fill out the Alumni Event Interest Form.
Campus departments and groups should fill out the URIFAE Request for Service Form, which outlines a variety of ways we can assist your group and offers guidelines for making your request.

Upcoming alumni events and activities are found on the Alumni Events Calendar.

University events, including concerts, theater productions, lectures, exhibits, and other special events open to the community are listed in the University Events Calendar.

The University's athletics website offers up-to-date information about all URI athletic events and how to purchase tickets. The Ryan Center and Boss Arena websites include a calendar of events and ticket information for each venue.