Back to all News & Stories
Young Alumni Council Honors Alumni with 2023 10 Under 10 Awards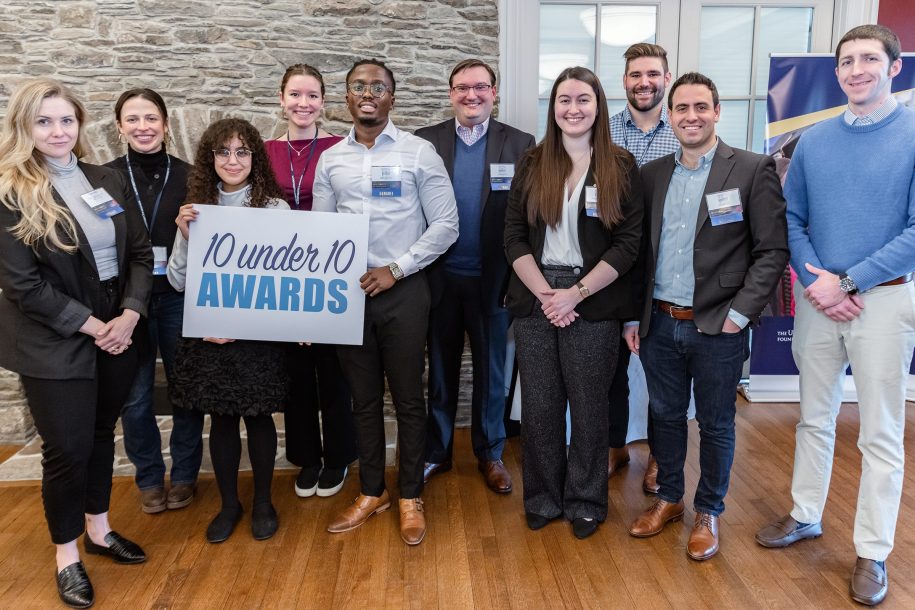 The URI Foundation & Alumni Engagement and the Young Alumni Council are thrilled to congratulate the 2023 recipients of the 10 Under 10 Awards.
This year's award recipients were recognized in a ceremony on Saturday, January 28 in the Alumni Center. The 10 Under 10 Awards highlight young leaders who have completed undergraduate degrees at URI within the last 10 years and have shown outstanding professional achievement and dedication to the URI community. These remarkable alumni have demonstrated excellence in the core values of the University: creativity and scholarship; diversity, fairness, and respect; engaged learning and civic involvement; and intellectual and ethical leadership.
Provost Barbara Wolfe and Young Alumni Council president Nick Marotta presented the awards. After the ceremony, guests enjoyed a men's basketball game from the president's suite at the Ryan Center, where they received on-court recognition at halftime.
2023 10 Under 10 Recipients
Jude Amoako '21
Provost's Award for Ethical Leadership and Community Engagement
Yulyana Torres '18
College of Arts and Sciences
Matthew Hayes '12
College of Business
Josie Chavez '19
Alan Shawn Feinstein College of Education and Professional Studies
Maeve Story '20
College of Engineering
Jennifer Newport '21
College of the Environment and Life Sciences
James Carrier '13
College of Health Sciences
Phoebe Hall '16, D.N.P.'19
College of Nursing
Nicholas DaSilva '14, Ph.D.'19
College of Pharmacy
Chase Livingston '16
Athletics