Back to all News & Stories
URI Showcased at Providence WaterFire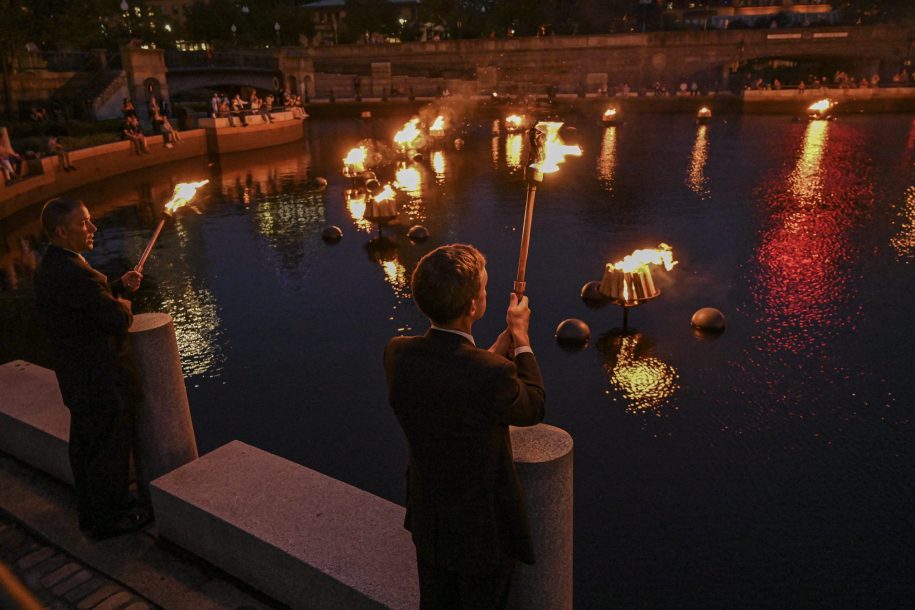 The weather cleared and the Rhody community gathered in force to enjoy WaterFire on Friday, September 24. The music and fanfare of the event helped highlight URI's contributions to the wellbeing of the residents of the state and its economy.
URI President Marc Parlange and his wife Mary greeted people who stopped by URI tents featuring academic areas, admissions, alumni programming, and the Athletics Department. About 2,000 visitors attended, and many enthusiastically discussed URI with various representatives, including students who showcased their activities.
"It's fitting that we mark the beginning of a new season and a new academic year with WaterFire – an internationally renowned event that attracts, celebrates, and cultivates community," said Parlange. "I was delighted to see the extended URI community – and Rhode Island residents and visitors – turn up to witness inspiring art in the making and learn more about our University."
The event was co-sponsored by the President's Office, URI Foundation & Alumni Engagement, the College of Nursing in celebration of their 75th anniversary, and the College of Business, highlighting their upcoming 100th anniversary.