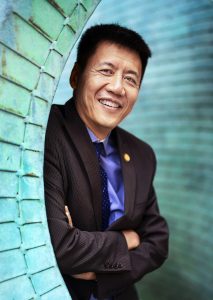 The University of Rhode Island College of Business announced that Professor Bing-Xuan Lin has been named the inaugural William H. Eigen Endowed Professor in Finance.
Lin, a current professor of finance in the College of Business, focuses his research on financial market disclosures,mergers, acquisitions, and emerging markets, and is a highly sought-after scholar in the global community, with publications in national and international accounting and finance journals.
"Endowed faculty positions have a compounding effect on our research output, enrollment, and reputation, which is why transformative faculty is a cornerstone of Big Ideas. Bold Plans. The Campaign for URI," said Shaw K. Chen, interim dean and the Alfred J. Verrecchia-Hasbro Inc. Leadership Chair in Business. "We are very grateful to Bill Eigen for establishing this professorship because it inspires faculty to integrate research and teaching for the benefit our students and encourages ground-breaking innovation in business."
The Eigen Professorship will support the recruitment and retention of outstanding faculty and provide funds that support teaching, travel, and research.
Lin's research has been presented at major conferences in the U.S., Asia, Australia, and Europe. He consults with businesses around the world on corporate strategy, market development, and venture financing.
William H. Eigen III '90 is managing director and head of the Absolute Return and Opportunistic Fixed Income Team at J.P. Morgan Asset Management in Boston. He established the endowed professorship in finance with a gift in 2016 to recognize the profound influence that professors like Gordon Dash had on him as an undergraduate.
"I feel so good about the direction the school is heading in, and I want to help in whatever way I can," Eigen said. "My years at URI helped make me a success and I just want to give back. It's as simple as that."
Eigen joined J.P. Morgan in 2008, and prior to that headed Highbridge Capital Management's Fixed Income Group and spent 12 years at Fidelity Investments. He began his career in 1990 as a Group Pension Investment consultant in the Retirement and Investment Services Group at CIGNA.
He holds a B.S. in finance from the University of Rhode Island, is a CFA® charterholder, has served on the board of directors of the Boston Security Analysts Society, and is a member of its education board.
The URI College of Business serves 2,200 undergraduates and 350 graduate students. It is AACSB accredited, the global gold standard of academic business school accreditation, and offers 10 undergraduate majors, eight graduate programs, three Ph.D. specializations and one executive doctoral program.