Back to all News & Stories
Deborah Imondi '83 M.B.A.'86 Receives Ram Award for Alumni Achievement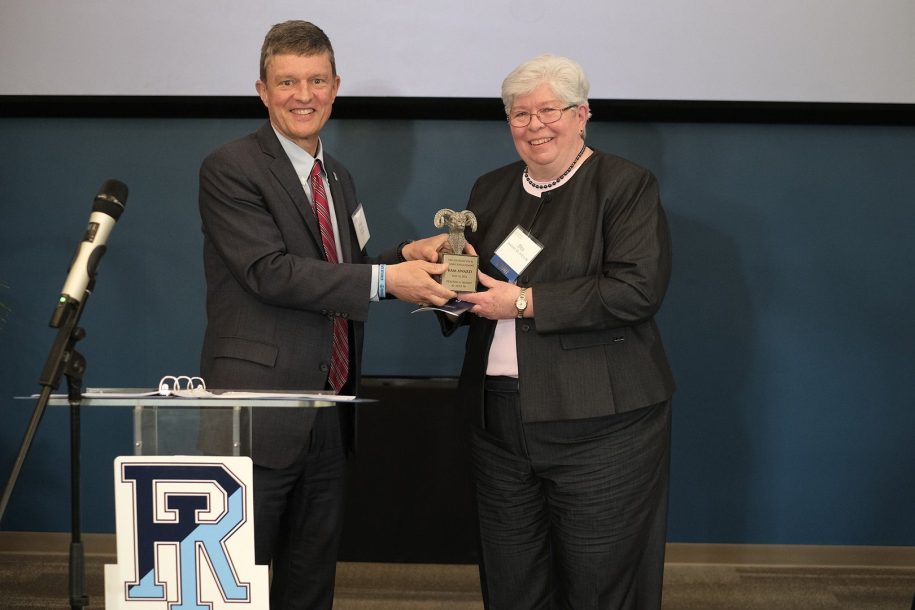 KINGSTON, RI – May 17, 2022 – The University of Rhode Island Foundation & Alumni Engagement (URIFAE) announced that Deborah Imondi '83, M.B.A. '86 received the prestigious Ram Award on May 16 in recognition of her dedication to the University for more than 25 years.
"I nominated Deb Imondi because she is incredibly committed to URI and its students," said Michael Ice, senior finance lecturer in the College of Business. "Since she retired from Textron, she has been a teaching assistant in BUS423, the Student Management Investment Fund course. The students have benefited from her real-world experience, and many seek her out as a mentor. She is also a dedicated volunteer leader serving on boards and committees."
A lifelong resident of Rhode Island, Imondi received her B.A. in economics and an executive M.B.A. from URI.
"The Ram Award was established in 1946 to recognize people who embody the mission of the University," said Michele Nota '87 M.S.'06, vice president for alumni engagement. "Deb Imondi is an ideal recipient. She has remained involved with the University and has served in a variety of leadership roles for us."
After graduation, Imondi worked for Rhode Island Hospital Trust National Bank and left to participate in the creation of a wealth management firm. In 1988 she joined Textron Inc. as assistant treasurer, investment management, and she retired from Textron in 2013. She is a certified Six Sigma Green Belt.
Imondi is a member of the URIFAE executive board and chair of its investment committee, and she serves on URI's College of Business Finance Advisory Board. She has received a number of awards from the University, including the Distinguished Achievement Award from the College of Business, Alumni of the Game, and the Alumni Community Service Excellence Award.
In addition, she teaches a course in the College of Business, and since her retirement has served as the executive director of the Rhode Island 4-H Club Foundation, Inc. That organization supports the URI College of the Environment and Life Sciences youth programs, providing learning opportunities in schools, in after-school settings, and in community clubs.
Imondi also contributes her time and expertise on a variety of community and nonprofit boards.