Back to All Events
Women's Leadership Council Brunch and Learn
April 1, 2023
10 a.m.-1 p.m.
Alumni Center
73 Upper College Road
Kingston, Rhode Island
Register
Join the Women's Leadership Council for our spring Brunch and Learn. Enjoy a light breakfast and a series of informative, career-focused discussions and presentations featuring experienced alumnae. This is a great opportunity to meet alumnae from a variety of professions, expand your network, and prepare for life after college.
Topics will include knowing your worth, strategic relationships and the power of networking, leadership at all levels, and a young alumnae panel discussion.
Register by: Friday, March 17, 2023
Learn more about the Women's Leadership Scholarship funds.
Know Your Worth

Kelly Nevins '90, M.A.'02CEO, Women's Fund of Rhode Island
Join Kelly Nevins as she discusses the gender wage and wealth gaps that women (particularly those of color) face and tips to help you narrow that gap for yourself over the course of your lifetime. The program will broadly address drivers of the gender wealth gap, negotiation skills, budgeting needs, and more.
About Kelly: A URI alumna, Kelly Nevins has been a leader in the RI nonprofit sector since 1990, with expertise in strategic development, motivating teams and individuals, workplace equity and community relations tools, program development and public speaking. She holds a master's degree in education and leadership. As the CEO of Women's Fund of Rhode Island since 2016, Nevins often speaks about the status of women and girls, why investing in women pays off, and using a gender lens to create systems change.
Why Should I Network?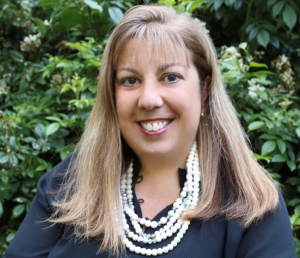 Paula Testa, M.B.A.'94
Senior vice president, Fidelity Institutional Client Experience, Service Platform & Solutions
We've all heard that networking is something we should do, but some of us are better at it than others. Paula will share thoughts on why networking is important, provide suggestions on how to network, and give you time to build your own network.
About Paula: Paula holds a Bachelor of Arts degree from Boston College and a Master of Business Administration from the University of Rhode Island. She is currently enrolled in a graduate certificate program for executive coaching at William James College and holds the Series 7, 24, and 63 FINRA licenses.
Paula is currently responsible for leading the CE Service Platform & Solutions Domain, which focuses on driving scale and efficiency through automation and re-engineering for Fidelity's institutional clients as well as associates. Prior to this role, Paula was responsible for leading strategy and planning for FI Client Experience as well as managing the FI training development and delivery team. Paula has also managed multiple service and operations teams who provided support to FI's Custody clients. Prior to returning to Fidelity Investments in 2007, Paula spent eight years as a broker dealer correspondent in various management roles.
Navigating Leadership for Women: From Student to Professional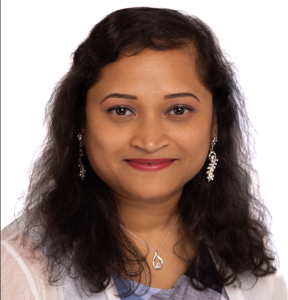 Dr. Jayashri Sarkar Ph.D. '08
ImagiNexGen Institute of Excellence

Imposter syndrome is caused by low self-esteem and self-doubt. About 85% of women in business experience low self-esteem! This statistic reveals that we as a human race have created an environment that does not support women in building their confidence. By developing conscious awareness of these biases, women can learn to not only minimize the impact of these biases on their self-confidence, but also develop the critical thinking needed to grow confidently in their career path. We will discuss strategies to overcome the stress, anxiety, biases, and fear that come with navigating student life and transitioning from student life to a professional life confidently. Our goal is to help you walk away with clarity and start understanding critical thinking skills that will enable you to handle life and work challenges confidently.
About Dr. Jayashri: Dr. Jayashri Sarkar is an inventor and entrepreneur with a passion for women's development. She is a URI graduate with a Ph.D. in Chemical Engineering and has developed two patents. As a woman in STEM, she has faced many biases. As her professional competence grew, so did the biases. She successfully navigated these challenges as a student, then as a professional, and now as an entrepreneur, holding various leadership positions and leading teams in different industries. Her company is ImagiNexGen Institute of Excellence, whose mission is to take humanity forward. She has been a guest speaker for NASDAQ Entrepreneurship Center, Prestamos Women's Business Center, Better Business Bureau, South University, and Phoenix Business Radio. Dr. Sarkar provides workforce development programs that are equal opportunity, inclusive, and provide a safe learning environment designed to help women in business understand the pressures they are surrounded by and address the biggest challenge grappling our generation: imposter syndrome. Her programs help people develop work-life harmony along with accountability while minimizing stress, anxiety, and self-doubt.
Young Alumni Panel: Things You Wish You Knew
Hear from a panel of young alumnae about their experiences. More information to come.
URI Foundation & Alumni Engagement welcomes individuals with disabilities to participate in its programs and activities. If you need accommodations or have questions about access to the event, please call 401.874.2242 at least five business days in advance. For TTY assistance, please call the R.I. Relay Service at 711.