Back to All Events
Alumni Travel Opportunity: European Coastal Cruise
May 2-11, 2024
Gohagan & Company
209 South LaSalle Street
Suite 500
Chicago, IL 60604-1446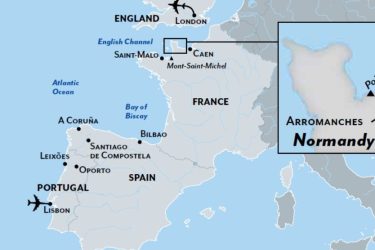 Download Brochure
See the beaches of Normandy, medieval castles, cathedrals, and more!
URI Foundation & Alumni Engagement is excited to offer exclusive travel opportunities for URI alumni through Gohagan & Co. travel. From the old-world sophistication of Portugal and the artistic verve of Spain's Basque country to the historic D-Day beaches of Normandy, France, and the regal majesty of London, a riveting canvas of influential seaports awaits you along Europe's Atlantic coastline. This exclusively chartered cruise aboard the 5-star ship Le Champlain features special guest speaker Dwight David Eisenhower II, grandson of General and President Dwight D. Eisenhower, who will accompany you to the beaches of Normandy during the 80th anniversary year of the largest seaborne invasion in history. You will also visit UNESCO World Heritage Sites as well as the modern Goggenheim Museum in Bilbao as you cruise the Atlantic coast and up the River Thames to London.
About Dwight David Eisenhower II
Grandson of General and President Dwight D. Eisenhower, Dwight David Eisenhower II is a noted historian of World War II and the Cold War. His 1986 bestseller, Eisenhower: At War 1943-1945, was a finalist for the Pulitzer Prize in History. Eisenhower received a B.A. in history cum laude from Amherst College. Following graduation, he served in the United States Naval Reserve for three years as an officer on the USS Albany; shortly afterward, he earned his J.D. cum laude from The George Washington University Law School. Today, Eisenhower is a Senior Fellow of the Foreign Policy Research Institute and a Public Policy Fellow at the Annenberg School of Communication and the School of Arts and Sciences at the University of Pennsylvania, where he teaches "Communication and the Presidency."
Download the brochure for complete details.
More Alumni Travel Opportunities
Explore North America's rich maritime history aboard the exclusively chartered, five star small ship Le Bellot with exclusive guest speaker Ric Mixter. This seven-night program cruises all five Great Lakes with stops in Toronto, Detroit, and many smaller ports, with special excursions including a glass-bottom boat cruise around Flowerpot Island in Ontario and a full day in Niagara Falls. Presented by Gohagan & Company. 

Experience a rare daytime transit through the Panama Canal where mighty locks raise and lower vessels 85 feet to cross the Isthmus of Panama. Spend time in Panama City, then visit beautiful islands, rain forests, and national parks in Panama and Costa Rica, ending in the Costa Rican capital of San José. Presented by Gohagan & Company.

Presented by Alumni Holidays Travel. More information coming soon!

Presented by Alumni Holidays Travel. More information coming soon!