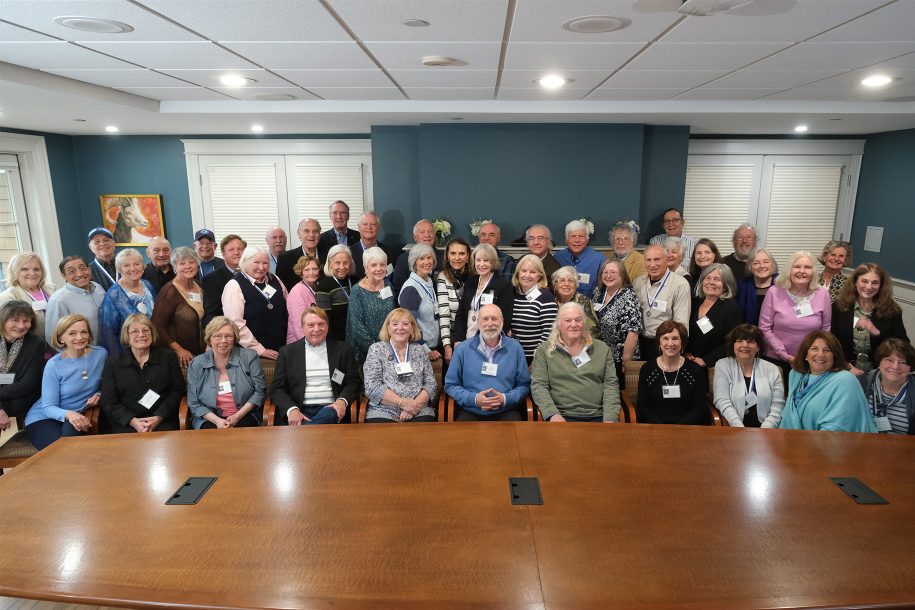 Thank you for joining us!
We were excited to welcome the Class of 1973 back to campus on May 19-20, 2023. It was wonderful to see everyone reconnecting and sharing stories while touring campus, participating in classroom presentations, and enjoying good food and great company.
Make a Gift in Honor of this Special Milestone
Direct your reunion gift to the program or area that means the most to you, such as your academic college, RhodyNow, athletics, or an endowment. All gifts count toward the overall class giving total. For more information contact Reunion Giving Advisor Joanne Gemma at 401.874.5514 or joannegemma@uri.edu.
Memories from 1973
The Good Five Cent Cigar: A Ticket to a Rewarding Career

Strong Connections Made at URI

Friendships and Leadership Skills for Life
More memories…
Elaine (Melaragno) Boissevain '73: "November 9, 1965, I plugged in an illegal hot pot at my Merrill Hall dorm room and the entire eastern seaboard power went out! (I thought it was my fault.)"
Ann M. Davis '73: "Wonderful speech pathology graduate program. Great friendships."
Marybeth (Schwitter) Flynn '73: "I'm from NJ and I remember hearing that a lot of RI students go home for the weekends. Not true in the fall of '69. Our third floor at Merrow Hall was filled every weekend with students from RI and other states on the East Coast. Our new third floor friends included new first and second floor friends too. I eventually joined Alpha Chi Omega, which was great, but the thrill of a whole new and different world opening up to me that first year at URI never left my memory."
Elizabeth (Alt) Fraser '73: "Living 'Down the Line' at Scarborough Beach. Riding bikes to Point Judith. Eating out at Aunt Carrie's restaurant. Hanging in the Student Union between classes. Not to mention getting a great education!"
Deborah Kirsh-DeNardo '73: "Panty raids…Mixing dorms for the first time…Using cafeteria trays as sleds…standing in line to sign up for classes."
Nancy Kline, M.L.S.'73: "I have always been grateful to the faculty in the Graduate School of Library and Information Studies who welcomed those of us from UConn/Storrs during the 1970-1973 era. A few faculty actually commuted to Storrs to teach us in our "home" location…a special thanks to them."
Charles Jay '73: "Appreciate the education and the ROTC program…gave me a great foundation for the rest of my life."
Laima (Mockus) Price '73: "Best memory?? It was a time when we were all free to express our opinions and learn from each other. Forever grateful for my wonderful URI experience!"
Bruce W. Roberts '73: "Arriving back from Vietnam and receiving a warm welcome for a couple of us to found a chapter of the Vietnam Veterans Against the War. Leter in life, spending 11 years as a rugby referee who enjoyed seeing the great success of URI's team."
Reunion Committee
Abu R. Bakr '73, M.S.'84, M.B.A.'88, P'93
Ronald F. Cascione '73, P'09
Kathleen C. McNulty Hendry '73, M.A.'77
Bill Loveless '73
MaryEllen Hartigan MacDowell '73
Susan Laffey Oertle '73
For More Information
Reunion Information: Mary Cairns, Assistant Director, Alumni Engagement, 401.874.4536 or mary_cairns@uri.edu.
Class Gift: Joanne Gemma, Reunion Giving Advisor, 401.874.5514 or joannegemma@uri.edu.
Gift Planning: You can make a significant impact at URI with a planned gift. Some gifts may even improve your tax or financial situation. Contact John Garcia at 401.874.2042 or jfgarcia@uri.edu.