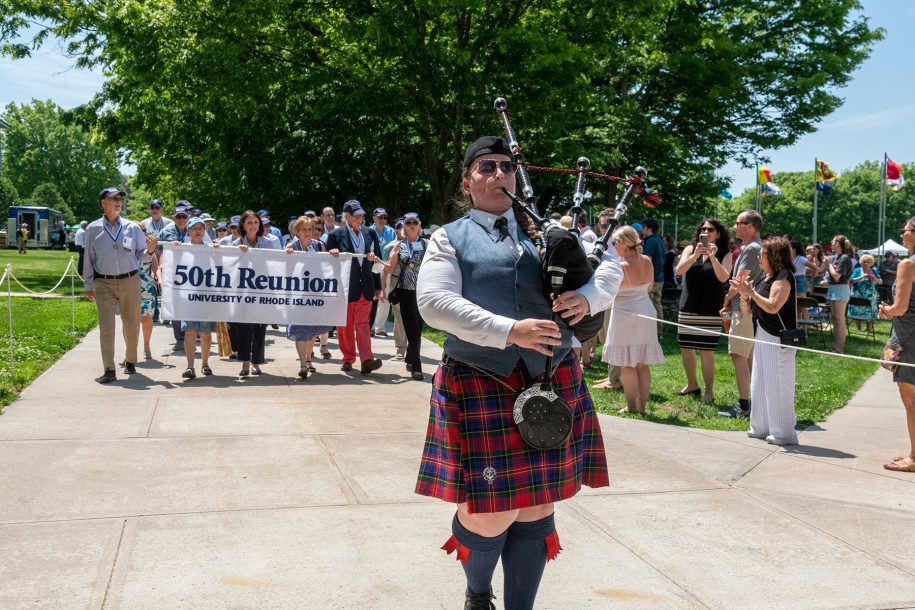 Save the Date: May 19-20, 2023
Plan to join your classmates on campus in May as the Class of 1973 celebrates 50 years as URI alumni. The reunion committee is working on a weekend of activities focusing on time to reminisce and reconnect as well as experience all the wonderful changes on campus since 1973. The reunion will include the tradition of leading the class of 2023 in the march across the Quad during Commencement.
Include Your Update in the 1973 Reunion Renaissance
Your classmates would love to share in your memories and find out what you've been up to in the past 50 years. We hope to collect submissions from as many classmates as possible to be included in a special reunion edition of the Renaissance yearbook. (See the original 1973 Renaissance here.) Submit your memories, updates, and/or photos by February 17, 2023.
Accommodations
TownePlace Suites by Marriott
55 Gate Road
North Kingstown, Rhode Island

12.3 miles/24 minutes from Kingston Campus

TownePlace Suites is offering a group rate of $309 per night for the nights of May 19-20, 2023. Two night stay minimum. To reserve your room, contact the hotel at (401) 667-7500 and mention URI 50th Reunion. Reservations must be made by April 19, 2023.

General Stanton Inn
4115 Old Post Road
Charlestown, Rhode Island

11.7 miles/20 minutes from Kingston Campus

This historic inn, originally opened in 1740, is offering a 10% discount on standard rates. Contact the inn at (401) 364-8888 and mention code URIgrad to receive the discounted rate.
Make a Gift in Honor of this Special Milestone
Direct your reunion gift to the program or area that means the most to you, such as your academic college, RhodyNow, athletics, or an endowment. All gifts count toward the overall class giving total. For more information contact Reunion Giving Advisor Joanne Gemma at 401.874.5514 or joannegemma@uri.edu.
Memories from 1973
The Good Five Cent Cigar: A Ticket to a Rewarding Career

Strong Connections Made at URI

Friendships and Leadership Skills for Life
More memories…
Elaine (Melaragno) Boissevain '73: "November 9, 1965, I plugged in an illegal hot pot at my Merrill Hall dorm room and the entire eastern seaboard power went out! (I thought it was my fault.)"
Elizabeth (Alt) Fraser '73: "Living 'Down the Line' at Scarborough Beach. Riding bikes to Point Judith. Eating out at Aunt Carrie's restaurant. Hanging in the Student Union between classes. Not to mention getting a great education!"
Deborah Kirsh-DeNardo '73: "Panty raids…Mixing dorms for the first time…Using cafeteria trays as sleds…standing in line to sign up for classes."
Charles Jay '73: "Appreciate the education and the ROTC program…gave me a great foundation for the rest of my life."
Laima (Mockus) Price '73: "Best memory?? It was a time when we were all free to express our opinions and learn from each other. Forever grateful for my wonderful URI experience!"
Reunion Committee
Abu R. Bakr '73, M.S.'84, M.B.A.'88, P'93
Ronald F. Cascione '73, P'09
Kathleen C. McNulty Hendry '73, M.A.'77
Bill Loveless '73
MaryEllen Hartigan MacDowell '73
Susan Laffey Oertle '73
For More Information
Reunion Information: Kathryn Vani '11, Assistant Director, Alumni Engagement, 401.874.7402 or kathryn_vani@uri.edu.
Class Gift: Joanne Gemma, Reunion Giving Advisor, 401.874.5514 or joannegemma@uri.edu.
Gift Planning: You can make a significant impact at URI with a planned gift. Some gifts may even improve your tax or financial situation. Contact Robert R. Ferrell Jr. '07 at 401.874.4751 or rferrell@uri.edu.