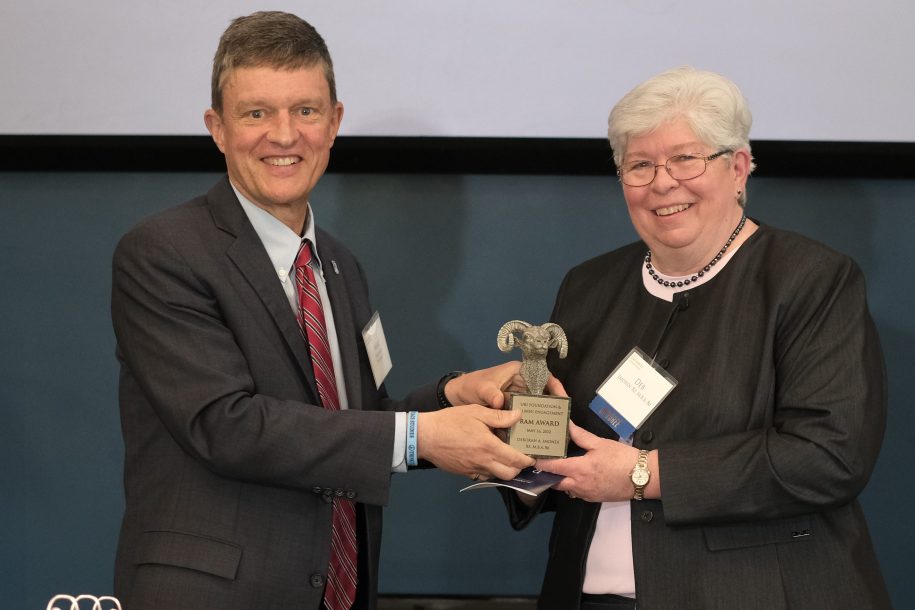 The Ram Award, established in 1946, recognizes an individual, whether an alum or not, who has unselfishly dedicated his or her efforts toward the betterment of the University for a minimum of 25 years. Recipients of the Ram Award embody the mission of the University of Rhode Island.
Ram Award Nomination Form
If you know someone who you believe should be recognized with a Ram Award, please complete the nomination form below.
Abbenante, Nicholas 1929
Adams, George E. 1894, M.S.1916
Adams Jr., Harold Earl 1953, P1978
Allen Jr., Lewis L. 1936
Andren, Russell E. 1931, P1966, P1981
Bailey, Abner Harris 1923
Baum, Werner A. H1974
Baxter, John Michael 1952
Bennett, Eloise Fairchild 1935
Berry, Chester Arthur 1938
Boss, Bradford Reed 1955, H1982, P1997
Bradley, Eve Calland 1930
Briggs, Nathalie E. 1933
Briggs, William H. 1908
Brill, Marvin A. 1971
Bristow, Annie F.
Brown, Stephen M. 1953
Browning Jr., Harold W. 1949
Browning, Harold W. 1914, P1945, P1949, P1950, P1958
Burke, James Edward 1951, P1983
Butler, William E. 1939
Calverley, Ernest A. 1946
Cargill, Daniel O. 1919
Carlotti Sr., Albert E. 1932, P1960, H1990
Caruso, Frank Nicholas 1967
Chandler, Harry C. 1924
Christopher, Everett P. 1926, M.S.1930
Christopher Jr., Raymond H. 1955, P1980
Civic, John Albert 1949, P1977
Clarke, Theodore 1940
Clarke, Luke 1924
Clarke, William C. 1898
Clarkin, William F. 1953
Clegg Jr., Alvin Shaw 1957, P2019
Coombs, Bertha T., P1965, H1981,
Corr, William J. 1913
Corr Jr., William J. 1940, P1973, P1975, P1978
Cox, Edward J. 1933
Croft, Irene B. 1940
Cruff, Ronald A. 1956, P1983
Curran, Ruth Elizabeth 1926
Dambruch, Edward L. 1956
Davis, Henry E. 1914
DeBucci, Romeo Alfonso 1927
Dewolf, Robert A., P1954, P1956, H1967,P1969
DiSano, Laura Hyssong 1970, M.A.1977
Droitcour, Howard Andrew 1930
Duncan, Sue R. 1934
Ellis, Marjorie Underwood 1939
Etzold, Thea 1971
Fain, Norman Myron 1936
Falciglia, Thomas V. 1945, P1973
Faron, Frank A. 1992
Federico, James J. 1935
Ferrante, William Robert 1949, H1999
Fiske, Eugene S. 1940
Formicola Jr., Joseph G. 1969
Fraraccio, Pasco 1937

Geffner, David G. 1928
Gencarelli, Angelo M. 1921
Gifford, Mark R. 1926
Gignac, Roland A. 1930
Goodwin, Ernest Bartlett 1932
Gorman, J. Bernard 1938, P1971
Gray, Mary A. 1952, P1979, P1989, H1996
Gregory, Norman F. 1938
Grossman, Morton Arthur 1933 P1961
Hall, Carlisle 1915
Hall, Charles A. 1932, P1969, P1975
Hanley, Arthur Francis 1936
Hedison, H. David 1943, P1971
Heditsian, Manoog T. 1947, P1986
Hirsch, Elizabeth T. 1937
Hopkins, Andrea M. 1968, P1991
Hopkins, James A. 1962
Horn, Fran, H1967
Hutchinson, Jean Martin 1953
Imondi, Deborah '83, M.B.A.'86
Jackson, Frederick L. 1932, H1977
Johnson, Earle Kramer 1925
Kaull, Caroline Tennant 1966, P1990, P1991, P1994, H2003
Kinney Jr., Lorenzo F. 1914, P1967
Kirk Jr., Chester Howard 1940
Knauss, John A., H1982, P1986
Knox, Kenneth E. 1970, P1990

Leonard, Gerry W. 1963, M.A.1970, P1989
Leonard, Judith Essex 1963, M.S.1985, P1989
Lepper Jr., Robert 1936, M.S.1938, P1968, P1969, P1970
Levin, Arthur Harvey 1951
Levin, Morris Joseph 1952, P1982, P1988
Lloyd, Charles John 1934
Lombardi, Stephen M. 1974
Lundgren, Nancy Almy 1954, P1981, P1984
Lundgren Jr., Raymond G. 1954, M.S.1960, P1981, P1984
MacDonald, Robert J. 1955, M.S.1969, P1979, P1984, P1986, P1987, P1997
Mackal, Henry H. 1933, P1962
Mainelli Sr., Hugo R. 1930, P1964
Maroni, R. Frank 1959, P1985, P1991, P1992, P1993, P2005
McClusky, Barbara Thompson
Meade, John E. 1951
Migliaccio, Nicolo G. 1932
Morris Jr., Charles E. 1955, M.A.1965, P1986
Morris, Evelyn B., H1967
Morris, Lois J. 1956
Moultrop, Kendall 1941
Munroe, Janet K. 1946, P1993
Munroe, Kenneth E. 1943, P1993
Murdough, Clark F. 1932
Murphy, James D. 1941
Murray, Blanche Richard 1941, P1973, P1974, H1988
Murray, Daniel Joseph 1935
Nardone Sr., Henry J. 1943, P1970, P1973, P1976, H1993
Nazareth Sr., Nathaniel J. 1955, P1980, P1981
Newman, Frank, H1979
Nightingale, Arnold D. 1950
Nordquist, Harry O. 1915
Norman, James W. 1957, P1981, P1986, P1992
Orme, William A. 1949, P1992

Parker, John 1940
Pendergast Jr., Daniel J. 1959
Peterson, Alden Edward 1929
Pickup, John Wilson 1952
Potter, Ralph C. 1947
Read Jr., H. Milton 1954, P1982, P1986
Rego, John Lawrence 1932, M.S.1933, P1967, P1968, P1980
Rose Jr., Anthony J. 1954, P1978, P1982, P1984
Rosen, Benton Harold 1936
Rumowicz, Edmund Stanley 1957, P1988
Russell, Robert S. 1975
Salter, Warren Lindsay 1948, P1969, P1972, P1973
Sarni, Vincent Anthony 1949, P1973, H1985
Saulnier, Philip J. 1962, H2012
Saunders Jr., Albert D. 1956
Savastano, Americo A. 1928, P1958
Schultz, Alfred O. 1922
Scussell, Joseph James 1931
Sherman, Arthur Leo 1950, P1981, P1984
Sherman, Robert S. 1932
Skogley, C. Richard 1950, M.S.1952
Smith, Edward Philip 1948, P1976, P1979
Starr, Norma Bugbee 1944
Stephens, Mary V. B. 1935
Strauss, Allen Joseph 1925, P1951
Sullivan, Donald P. 1971
Sullivan, Timothy J. 1970
Temkin, Jacob Norman 1946
Titchener, Frederick H. 1922
Tucker, Anna M. 1941, P1970
Tucker, Lucy C. 1900
Tweedell, James C. 1924
Wakefield, Robert C. 1950, P1978
Wardwell, Catherine MacKay 1930
Watelet, Paul L. 1934
Wheaton IV, James L. 1959, M.S.1962
Wilcox Jr., Francis James 1951, P1978
Woodward, Carl Raymond H1959
Wright, J. Attmore 1925
Wright, Thomas J. 1934
Young, George Laroy 1925, P1966, P1967, P1984
Zartarian, Alan G. 1969, P2003