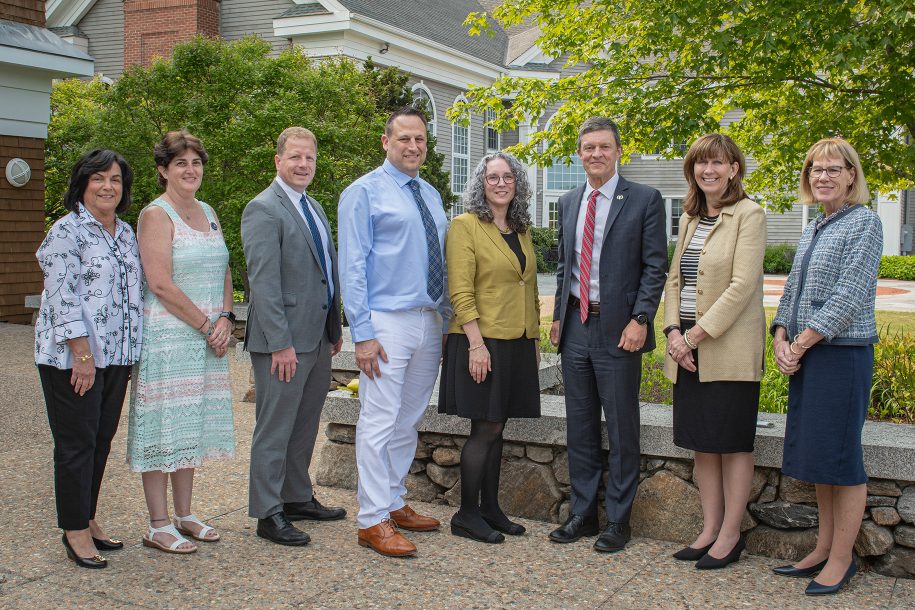 The URI Foundation & Alumni Engagement Excellence Awards honor faculty and staff whose hard work and dedication consistently elevate their departments, colleges, and the University. Recipients are nominated by students, faculty, and staff for excelling at their positions and making the University a better place for all.
Each year, an Excellence Awards Committee, composed of faculty and staff and supported by URIFAE, selects a winner in:
Administrative Excellence
Scholarly Excellence
Staff Excellence
Teaching Excellence
Awardees are celebrated and honored at a special reception hosted by URIFAE, and receive an honorarium, citation, and a pin. Recipients are also recognized at Commencement.
2023 EXCELLENCE AWARD WINNERS
Administrative Excellence
Kathleen Maher
Director, Office of National Fellowships and Academic Opportunities
Honors Program
Scholarly Excellence
Jeffrey Bratberg, Pharm.D., FAPhA
Clinical Professor of Pharmacy Practice and Clinical Research
College of Pharmacy
Staff Excellence
Amy Harrington
Administrative Assistant, Physics
College of Arts and Sciences
Teaching Excellence
Keith Brown '96
Teaching Professor, Film/Media
Harrington School of Communication and Media, College of Arts and Sciences
Directory of Past Excellence Award Recipients
1975 – Polly Matzinger, Director of Publications
1976 – Robert Rainville, Assistant Vice President, Student Affairs
1977 – Everett T. Harris, Assistant Dean, College of Business
1978 – Walter Gray, Director of Division of Marine Resources
1979 – Eleanor Lemaire, Associate Director of Athletics
1980 – Rod Crafts, Director of Student Life
1981 – Jane Dow, Manager, General Accounting Office
1982 – Charles Hooker, Director of Photo, Radio & TV
1983 – James Griffin, Director of Facilities, Graduate School of Oceanography
1984 – M. Beverly Swan, Acting Assistant Vice President for Academic Affairs
1985 – Leo F. DiMaio, Director, Special Programs for Talent Development
1986 – John F. Demitroff, Registrar
1987 – Harry J. Amaral, Financial Affairs
1988 – Sheila Black Grubman, Faculty Senate
1989 – Deofredo M. Dolor, Controller's Office
1990 – Joyce Allen, Deans Office, College of Arts & Sciences
1991 – Kathleen B. Gianquitti, Dining Services
1992 – William Wright-Swadel, Career Services
1993 – Jane M. Stich, Dean's Office, College of Business
1994 – Joseph A. Sauro, Purchasing Agent, Administrative Services
1995 – J. Eugene Knott, Director, Counseling Center
1996 – Pauline B. Wood, Director, Health Services
1997 – Sarah H. Rockett, Assistant Dean, University College
1998 – Bette L. Erickson, Specialist, Instructional Development Program Glenn R. Erickson, Director, Instructional Development Program
1999 – Richard M. Vandeputte, Assistant Dean, College of Engineering
2000 – Jonathan L. Blaney, Manager, Arts & Sciences
2001 – Marjorie J. McMahon, Associate Registrar
2002 – Eileen M. Tierney, Curator, Media Resource Center
2003 – Mary E. Fetherston, Language Lab
2004 – John M. Grandin, Director of the Int'l Engineering Program
2005 – Susan D. G. Warford, Child Development Center
2006 – Elizabeth C. Connors, Communicative Disorders
2007 – Kathryn S. Meier, Cancer Prevention Research Center
2008 – Linda A. Acciardo, Director, Communications & Marketing
2009 – Ellen M. Reynolds, Health Services
2010 – Ronald Bernier, Associate Controller
2011 – Tommaso Pitassi, Associate Controller
2012 – Joseph G. Fuscaldo, IT
2013 – Kenneth Sisson, Enrollment Services
2014 – Sara C. Hickox, GSO
2015 – Jerome Sidio, Facilities Services
2016 – Michele Curreri, President's Office
2017 – Douglas Michael, Facilities
2018 – Ian Lester, Manager of Technology Services, Academic Health Collaborative
2019 – Sigrid Berka, International Engineering Program
2020 – Cynthia Mace, Associate Controller
2021 – Deborah L. Mathews, Director, Office of Strategic Initiatives
2022 – Sunshine Menezes, Executive Director, Metcalf Institute

1976 – Henry LaFleur, Industrial Engineering
1977 – Anna Hagarty, Bureau of Government Research
1978 – Fran Danowski Cohen, Student Relations and Research Frank Furtado, Graduate School of Oceanography
1979 – Eileen Hughes, Graduate School of Oceanography
1980 – Ernest Turnbull, Office of Residential Life
1981 – Edward Blais, Physics
1982 – Ethel A. Thompson, Speech Communications
1983 – Nancy Tucker, College of Nursing
1984 – Barbara Janson, Office of the Vice President for Academic Affairs
1985 – Sharon Woodmansee, Political Science
1986 – Dolores Chadwick, Zoology
1987 – Joyce Reusch, Graduate School of Oceanography
1988 – Walter Castle, Heating Plant Engineer
1989 – Vernice M. Burnett, Library
1990 – Reba Whitford, Pharmacy
1991 – Phyllis D'Abate, University College
1992 – Joyce R. Deacon, Dean's Office, College of Nursing
1993 – Elaine P. Taylor, Cancer Prevention Research Consortium
1994 – Shirley Barney, Dental Hygiene
1995 – Veronica Pokladnik, Graduate School of Oceanography
1996 – J. Peter Morgan, Pharmacy
1997 – Raymond T. McLaughlin, Chemical Engineering
1998 – Stephen T. Pellegrino, Physics
1999 – Valerie Morgan-Addison, Textiles
2000 – Deborah A. Gardiner, Honors Program
2001 – Alice C. Bristol, Cooperative Extension Center
2002 – Kim A. Bissonnette, Athletic Therapist
2003 – Mary L. Pinch, Labor Research Lab
2004 – Joanne D. Lawrence, Dean's Office Arts & Sciences
2005 – Kathleen A. Craig, Enrollment Services
2006 – Denise K. Gorenski, Pharmacy
2007 – Michael P. McDonald, Housing and Residential Life Warehouse
2008 – Ronda B. Hammond, Office of the Provost
2009 – Lora F. Choquette, Capital Projects
2010 – Rebecca Lamb, University College
2011 – Anthony Frias, GSO
2012 – Patricia Victoria, Human Resources
2013 – Darlene Golomb, Facilities Services
2014 – Nora N. Lewis, URI Photographer
2015 – Michelle Caraccia, English Department
2016 – Marsha Mott, School of Education
2017 – Dr. Roger Ashley, Health Services
2018 – Cindy Sorlien, Assistant Administrative Officer, Department of Chemistry
2019 – Franca Cirelli, Office of Sponsored Projects
2020 – Terri-Lyn Hodson, Institute for Integrated Health and Innovation
2021 – Linda Forrester, Introductory Biology Labs
2022 – Melissa Schenck, Coordinator, International Engineering Program

1977 – Yuzuru Shimizu, Pharmacognosy Arthur G. Rand, Jr., Food Science/Nutrition
1978 – Rodney D. Driver, Mathematics
1979 – Maury N. Klein, History
1980 – Jill C. Bonner, Physics
1981 – James P. Kennett, Graduate School of Oceanography
1982 – Shashanka S. Mitra, Electrical Engineering
1983 – Paul J. Petrie, English
1984 – Theodore J. Smayda, Graduate School of Oceanography
1985 – Phyllis R. Brown, Chemistry
1986 – Lewis M. Alexander, Geography & Marine Affairs
1987 – Oved Shisha, Mathematics Robert G. Weisbord, History
1988 – Bernice Lott, Psychology and Women's Studies
1989 – Paul S. Cohen, Microbiology
1990 – Norman L. Zucker, Political Science
1991 – Richard J. Gelles, Sociology
1992 – James O. Prochaska, Psychology
1993 – Haraldur Sigurdsson, Graduate School of Oceanography
1994 – James F. Findlay, History
1995 – Arun Shukla, Mechanical Engineering
1996 – Gerasimos Ladas, Mathematics
1997 – Jan A. Northby, Physics
1998 – Margaret M. McGrath, Nursing Donald W. Tufts, Electrical Engineering
1999 – David M. Gitlitz, Languages
2000 – Wayne F. Velicer, Research, Cancer Prevention Research Consortium
2001 – Arthur J. Gold, Natural Resource Science
2002 – Judith M. Swift, Communications Studies/Theatre
2003 – Joseph S. Rossi, Psychology
2004 – Philip G. Clark, Human Development & Family Studies
2005 – Linda M. Welters, Textiles/Fashion Merchandising
2006 – Thomas N. Mather, CELS-PL
2007 – Candace A. Oviatt, Oceanography
2008 – Mohammad Faghri, Mechanical Engineering
2009 – Jimmie C. Oxley, Chemistry
2010 – Steven Kay, Electrical Engineering
2011 – Stephan Grilli, Professor, Ocean Engineering
2012 – Lisa Harlow, Psychology
2013 – Peter August, Natural Resource Sciences
2014 – Martin J. Bide, Textiles, Fashion Merchandising and Design
2015 – Mary Cappello, English Department
2016 – Brett Lucht, Chemistry Department
2017 – Ruby Roy Dholakia, College of Business Administration
2018 – Joëlle Rollo-Koster, Department of History
2019 – Colleen Redding, Department of Psychology & Cancer Prevention Research Center
2020 – John King, Emeritus Professor, Graduate School of Oceanography
2021 – Angela Slitt, Biomedical and Pharmaceutical Sciences
2022 – Rainer Lohmann, Professor of Oceanography

1970 – David Camp, Psychology; Robert S. Haas, Electrical Engineering; Robert Weisbord, History
1971 – Leon Bouvier, Sociology; Alfred G. Killilea, Political Science; Stephen D. Schwarz, Philosophy
1972 – Winifred A. Caldwell, Speech Communications; Robert DeWolf, Zoology; Warren Smith, English
1974 – Ward Abusamra, Music; George R. DeLodzia, Management; Elmer A. Palmatier, Botany
1975 – Philip L. Carpenter, Microbiology; Leo Carroll, Sociology; Robinson J. Hindle, Plant and Soil Science
1976 – Virgil Norton, Resource Economics; Nancy A. Potter, English; Glenworth A. Ramsay, Economics
1977 – Marguerite J. Bumpus, Education; Scott MacKenzie, Chemistry; Frank M. White, Mechanical Engineering
1978 – Dorothy F. Donnelly, English; Murn Nippo, Animal Science; Joel A. Cohen, History
1979 – Marjorie J. Caldwell, Food Science; David D. Warren, Political Science
1980 – Agnes G. Doody, Speech Communications
1981 – Hannelore Crossgrove, Languages
1982 – Dave Nacci, Civil Engineering
1983 – Joan Lausier, Pharmacy
1984 – Walter L. Barker, English
1985 – Lois A. Cuddy, English
1986 – Arthur B. Stein, Political Science
1987 – Gerasimos Ladas, Mathematics
1988 – Winifred W. Brownell, Speech Communications
1989 – C.B. Peters, Sociology
1990 – Lynn Pasquerella, Philosophy
1991 – Domenic Valentino, Psychology
1992 – Raymond P. Panzica, Medicinal Chemistry
1993 – Norman L. Zucker, Political Science
1994 – Leonard M. Kahn, Physics
1995 – D. Scott Molloy, Labor Research Center
1996 – Cheryl A. Foster, Philosophy
1997 – Richard McIntyre, Economics
1998 – Marc A. Genest, Political Science
1999 – Mario Trubiano, Languages
2000 – Roger A. LeBrun, Plant Science
2001 – Jerry L. Cohen, Psychology
2002 – Alain-Philippe Durand, Languages
2003 – Musa K. Jouaneh, Mechanical Engineering
2004 – Valerie A. Karno, English
2005 – Arthur C. Mead, Economics
2006 – Galen A. Johnson, Philosophy
2007 – Damon Rarick, Languages
2008 – Gerry S. Tyler, Political Science
2009 – Frank C. Golet, CELS-NRS
2010 – Libby Miles, Writing and Rhetoric
2011 – Charles (Chet) Hickox, College of Business Administration
2012 – Stephen M. Barber, English
2013 – Paula McGlasson, Theatre
2014 – J. Jennifer Jones, English
2015 – Cynthia Blanthorne, College of Business Administration
2016 – Angelo Simeoni, Department of Landscape Architecture
2017 – Catherine Sama, Department of Modern and Classical Languages and Literatures
2018 – Marc Hutchison, Department of Political Science
2019 – Brenton DeBoef, Department of Chemistry
2020 – Kathleen Torrens, Communication Studies
2021 – Kayon Murray-Johnson, Adult Education
2022 – Donna Gamache-Griffiths, College of Business