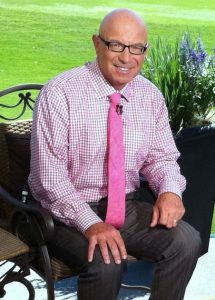 The Rosaforte Scholarship was established in honor of the late James "Tim" Rosaforte III '77, a highly accomplished sports journalist, broadcaster, and author in the world of professional golf.
Supporting students in the Interdisciplinary Neuroscience Program, the scholarship allows them to work with faculty exploring interventions for brain disorders such as Alzheimer's and Parkinson's, ALS, ADHD, communication disorders, epilepsy, schizophrenia, and more.
Hear from Emily Metcalf '24, one of two students selected for the inaugural award of the Tim Rosaforte III '77 Endowed Scholarship in Neuroscience:
How would you describe your research and the focus of your academic work?
I work in the Van Nostrand lab, where our main focus is to study vascular-mediated aspects of cognitive impairment and dementia. Right now we are focusing on the abnormal accumulation of A-beta in Alzheimer's and cerebral amyloid angiopathy (CAA).
My responsibilities in the lab have included calcium, H&E, and hemosiderin staining. I cut and mount tissue, stain, and image different pathologies in order to conduct analysis on aspects related to CAA.
While I enjoy learning about the many aspects of animal research, I hope to one day conduct research in neuropsychology related to neurodegenerative diseases in human models. While my work now is currently focused on cellular and molecular neuroscience, I hope to gain more experience this summer in a neuropsychology clinic setting.
The funds from this scholarship allowed me to take a little time this summer to partake in an unpaid internship at a clinic, which I am extremely grateful for. I truly want to help people and their families that face the burden of these disorders.
What drew you to URI?
What caught my eye about URI is that they offered three possible tracks for the undergraduate neuroscience program and more research opportunities than I thought possible. Since starting in the Van Nostrand lab I have been able to earn credit towards my major and learn more about the mechanisms and treatments behind neurodegenerative diseases through invaluable work experience. My courses and time in the lab have only reaffirmed the true passion I feel for neuroscience and psychology.
With transfer credits that I earned in high school, I added psychology as a second major and am still able to graduate a year early. Within the Interdisciplinary Neuroscience Program, I have been able to make a lot of friends that have the same goals as me. It has definitely developed a great sense of community for me. I have loved learning so much about what I am interested in and I have felt so supported along the way.
What does additional funding like the Rosaforte Scholarship mean for you?
I am extremely grateful to have received this scholarship and I appreciate each and every one of the donors that made it possible. As someone with a lot of school and student loans ahead of them, this scholarship helps to relieve some of the stress. As someone who has always felt the financial burden of college, I wondered from a young age if I would even be able to attend a university. This scholarship has lifted weights off of my shoulders and made it possible for me to pay for my education and achieve my goals.
Contribute to the Rosaforte Fund
We invite friends, family, colleagues, and peers in the golf community, as well as alumni and friends of URI to give to this meaningful fund.
To discuss more giving options, contact Assistant Vice President for Development Eric Schonewald at 401-874-9017 or eschonewald@uri.edu.