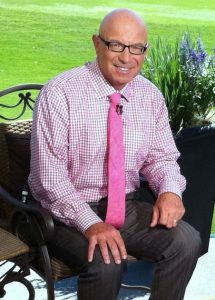 James Tim Rosaforte III '77 retired from an illustrious sports journalism career in 2019. A senior writer for Golf World, Rosaforte covered all of golf's major championships and 17 Ryder Cups. His television credits include commentary on Inside the PGA TOUR, co-hosting The PGA TOUR Florida Style, reports on Golf Channel's Golf Central, and analysis on Viewer's Forum. He also lent his expertise to USA Network's early-round coverage of PGA TOUR events, the Masters, and the Ryder Cup.
To celebrate Rosaforte's lifetime of contributions to golf journalism, the University of Rhode Island is establishing the Tim Rosaforte III '77 Endowed Scholarship in Neuroscience.
Select Career Highlights
In 2020, Rosaforte became the first journalist named as an honorary member of the PGA of America. He earned more than 40 writing awards, including the 2014 PGA Lifetime Achievement Award in Journalism. He is the author of three books: Raising the Bar: The Championship Years of Tiger Woods, Heartbreak Hill: The Anatomy of a Ryder Cup, and Tiger Woods: The Making of a Champion. As a tribute to Rosaforte, the Honda Classic recently announced they were renaming their media center after him.
New Hope in Interdisciplinary Neuroscience
From developing smart technologies for treatment to seeking interventions for substance abuse, URI neuroscience is at the forefront of an urgent global effort to advance understanding of the brain's role in physical and mental health. URI's comprehensive approach includes training the next generation of researchers through the undergraduate and graduate Interdisciplinary Neuroscience Program (INP) alongside cutting-edge research at the George and Anne Ryan Institute for Neuroscience.
Shaping the Future of Research and Treatment
The Rosaforte Scholarship will support students in the INP. This newly launched program develops researchers, clinicians, and entrepreneurs who investigate the physiological basis of thought and behavior. It allows students to work with faculty exploring interventions for brain disorders such as Alzheimer's and Parkinson's, ALS, ADHD, communication disorders, epilepsy, schizophrenia, and more.
The Golf World Pays Tribute
"Tim has been a great friend for some 40 years. [He] is also one of this generation's great golf journalists."
-Jack Nicklaus
"Tim earned the title, 'Mr. Insider,' for his attention to detail and dogged pursuit of the facts."
-Suzy Whaley, PGA Honorary President
"Tim was a journalistic entrepreneur, someone that took journalism, maybe more specifically reporting, into a different realm."
-Alex Miceli, President, Golf Press Association
"He was the ultimate insider. I've never seen a greater work ethic in golf coverage."
-Doug Ferguson, Associated Press
Contribute to the Rosaforte Fund
We invite friends, family, colleagues, and peers in the golf community, as well as alumni and friends of URI to give to this meaningful fund.
To discuss more giving options, contact Assistant Vice President for Development Eric Schonewald at 401-874-9017 or eschonewald@uri.edu.