The Rosaforte Scholarship supports students in the Interdisciplinary Neuroscience Program. It allows students to work with faculty exploring interventions for brain disorders such as Alzheimer's and Parkinson's, ALS, ADHD, communication disorders, epilepsy, schizophrenia, and more. The Rosaforte Scholarship was established in honor of the late James "Tim" Rosaforte III '77, a highly accomplished sports journalist, broadcaster, and author in the world of professional golf.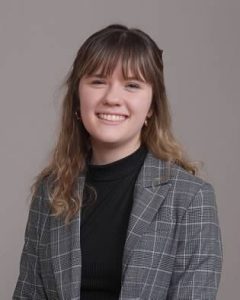 Hear from Danielle Burge '24, one of two students selected for the inaugural award of the Tim Rosaforte III '77 Endowed Scholarship in Neuroscience:
How would you describe your research and the focus of your academic work?
I'm in a molecular neuroscience lab that focuses on neurodegenerative diseases such as Alzheimer's and Parkinson's along with epigenetic alteration in the mitochondria and their link to Alzheimer's disease.
After some time learning the basics, I started this semester really being hands-on in the lab. I still say I'm in the training phase where I'm absorbing as much as I can about the research, but I'm learning all the different procedures that they use.
We do a lot of cell work with certain genes that correspond with Alzheimer's disease. It really taught me about the complexity of these diseases and helped me realize that even if I go into more of a pharmacy track that I really want to study Alzheimer's disease.
What drew you to URI?
URI was one of the only schools that I was looking at, at least in New England, that had a neuroscience pharmacy track. What also made it stand out was the Pharm.D. [doctor of pharmacy] program having such a strong presence that was clearly well funded. These programs allowed me to combine my interest in neuroscience and pharmacy to get that concentration.
I've loved URI since I moved in my freshman year. There were so many different things that they had to offer. I am now part of two organizations. The first is Seeds of Success, where I serve as secretary this year. It's an organization that focuses on giving internships and opportunities in the field of biology, especially to minorities in STEM. The other club I'm part of is the American Society of Pharmacognosy. We study medicinal plants, and it drew me to add a double major in pharmaceutical science along with neuroscience. I was going to be graduating early if I hadn't added the double major. I wanted to stay at URI a little bit longer. I really like it here.
What does additional funding like the Rosaforte Scholarship mean for you?
It's an honor to get a scholarship like this one. It's really helped to be able to contribute more time to research. It allows me to dedicate more time in labs than at work. One thing that helped so much was just getting recognition for my work. It's a way to stand out when you're studying the same thing as all the other students in your major. I don't know of any scholarships that are so specific to a major like this one is.
I dream about graduate school and getting a Ph.D. I'm looking for a graduate program in pharmacy, specifically with medicinal chemistry and drug development. I would love to take that experience and work towards a preventative treatment or research in Alzheimer's disease.
Contribute to the Rosaforte Fund
We invite friends, family, colleagues, and peers in the golf community, as well as alumni and friends of URI to give to this meaningful fund.
To discuss more giving options, contact Assistant Vice President for Development Eric Schonewald at 401-874-9017 or eschonewald@uri.edu.