URI CareerConnect Resources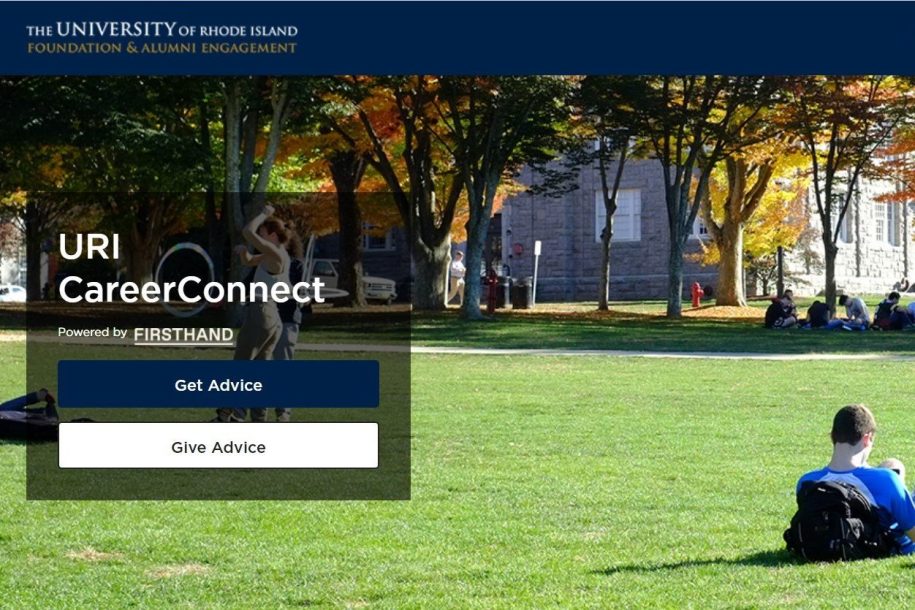 URI CareerConnect matches advisors and advisees for one-on-one conversations about career advice, resume critiques, mock-interviews, entrepreneurship, and more. It is open to all alumni and students.
Getting Started
Go to uri.firsthand.co and click "Get Advice" or "Give Advice" to activate your account using the email where you receive URI communications. You can register as an advisee, advisor, or both, depending on your preference.
Set up a profile. You can load content directly from LinkedIn to make it even faster! Don't forget to customize your profile with areas of expertise and availability for consultations.
Get matched with advisees and/or advisors. URI CareerConnect will recommend matches, or you can search based on industry, field of study, location, employer, and much more.
Connect with advisees and/or advisors by phone or video chat.
Explore other features of the URI CareerConnect community, like groups and career resources.
URI CareerConnect Quick Start Guides
FirstHand User Training and Support
URI CareerConnect Tips
Start with common ground and background. Mention something you have in common with the other person, like a similar interest. Give the other person some background on where you are coming from and why you wanted to meet.
Start by establishing goals for the conversation. Figure out where the other person is in their career, where they hope to be, and what they hope to get from your conversation.

Keep the conversation friendly and informal. It can be intimidating speaking to someone further along in their career, so give the other person some credit for reaching out.
Give a reality check, as needed. Sometimes people can be unaware how much work might be involved in reaching their goals or how competitive some jobs are, so try to offer context and establish healthy expectations.
Offer some perspective. At the start of any career journey, it might be hard to grasp what various skills sets and motivations might lead to opportunities.
Provide next steps. The conclusion of any productive meeting ends with next steps. Set the other person up for success by translating your advice into an actionable path forward.

Ask for the other person's background. How did they navigate issues or approach making certain decisions?
Take notes. Writing it down will help you process and remember things later, and will come in handy should you need to ask follow-up questions.
Practice active listening. Make it a conversation by asking questions and avoiding monologues.
Mind the time. Everyone is busy, so make sure you thank the other person for taking the time to speak with you. If it looks like you're running out of time, offer to book another meeting.
Embrace the journey. Every person and every conversation is different. Trust that with each conversation you're building crucial skills and a network of people rooting for you.

Although URI CareerConnect has an algorithm to match you with your best advisors, you might want to dig a little deeper to find the perfect person to speak with. Here are a couple of easy tips:

Click on Advisors in the top blue bar.
Use the filters on the left side of your screen – filter by advice topic, group, employer, location, fields of study, function, industry, language and more.
Or, use the Search by keyword bar at the top of the preset filters. Remember to check out the Search tips just below the bar.
Once you've found an advisor, click on their profile to learn more about them and book a consultation!

INDUSTRY and ROLE

Another way to make sure URI CareerConnect matches you with the right advisor is to update these important profile selections: the Industry and Role fields in your Career Goals. You can select up to 10 industries and 10 roles. These two fields are a key part of the algorithm – make sure yours are complete!

We know, life gets busy. But advisees are counting on you. If you missed responding to a meeting request from an advisee, you can still connect to set up a mutually convenient meeting.

As an advisor, you will receive an email notification when an advisee requests a meeting. Another email is sent when the advisee's request has expired. That email includes a link to your messaging center where you can connect directly to your advisee. We know they'll appreciate hearing from you!

Groups allow you to start conversations and share information with alumni who have a common interest. You may have joined a group when you registered: your college, varsity sport, music group, Greek brothers or sisters, etc.

In each group you can post a question or update the group via the forum feature. Think of it like a Facebook or LinkedIn group—reach out to your network and make things happen! Here are some sample questions to start you off:

What advice do you have for someone who's new to networking? Please share some pointers or resources that have helped you.
What was your first job and how did you get it? Please share your story and any advice for a young grad.
What's the best career advice you've ever received?

Want to join a group? Log in to URI CareerConnect, click on Groups in the top blue bar, find your people, and click JOIN.

If you need help, click the chat or help button on the lower left corner of your URI CareerConnect screen.

URI CareerConnect is not only a source for one-on-one consultations, but it is also a place where you can post jobs or other opportunities for your fellow Rhody Rams. To post a job or internship opportunity at your organization:

Find "How I can help" in your profile pull-down.
Select the "Job openings" option.
OR, click "JOBS" on the top navigation bar, then click "Post a Job."
Fill out the required fields and click "Save."