Back to all News & Stories
A Most Welcome Addition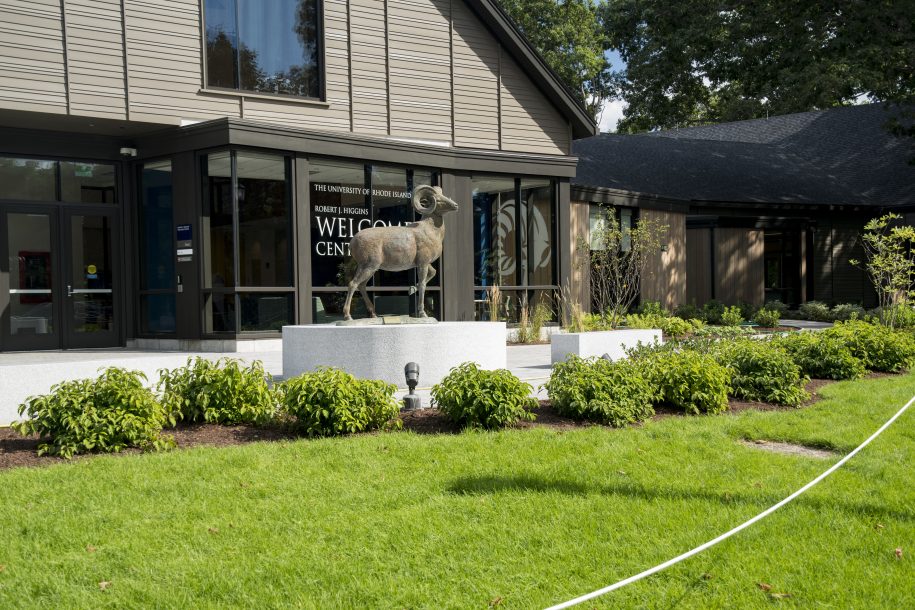 With the snip of ceremonial scissors, Mary Danielian Higgins '67, University and state officials, students, and alumni cut a ribbon before a standing-room only crowd to mark the official opening of the Robert J. Higgins Welcome Center on September 26, 2018.
Mary Higgins and the late Robert J. Higgins '67 have been major supporters of the University for decades, including Mary's recent $2 million gift to name the center in her husband's honor.
"Bob always maintained a strong connection to the University," said Higgins. "I hope the Welcome Center will be the starting point for many others to begin similarly long-lasting relationships to URI."
The 11,000-square-foot center, located at Upper College Road and Briar Lane, is a stylish, colorful, and interactive facility that will serve 50,000 annual visitors—prospective students and their families, visiting scholars, guest lecturers, and community and business leaders.
Outside, a new majestic ram sculpture looks out on Upper College Road, and the Taricani Terrace—named in honor of the late Jim Taricani, Hon. '18, a widely respected investigative reporter—provides a beautiful area for outdoor events. The White Family Garden, named by Laurie White '81, in honor of her family, complements the terrace.
"This center exemplifies the mission and spirit of the University," said Thomas M. Ryan '75, former chief executive officer of CVS Health and chairman of the URI Foundation Board. "The Higgins story is an example of why alumni are so critical to the future of URI. Their shared efforts to make the University better and stronger represent a level of commitment we should all emulate."