Back to All Events
Women's Basketball NIT Bus Trip and Pregame Meetup
March 23, 2023
5-6:30 p.m.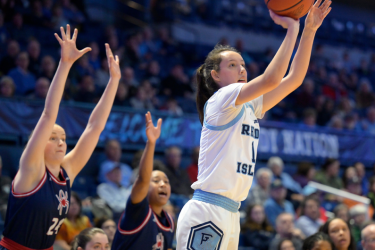 Register
Join us for a WNIT pregame meetup with Rhody fans in Cambridge before the game against Harvard. A chartered bus will leave from the Ryan Center at 3 p.m. and stop at the Warwick 117 Park & Ride at 3:20 p.m. before dropping fans off at Russell House Tavern. Fans are also welcome to meet us there. Fill up on pregame fare and lots of Rhody spirit!
Tickets to the game may be purchased from Harvard Athletics.
Cost: $65 bus trip and reception; $35 reception only. Reception includes hearty pregame fare and nonalcoholic beverages. Cash bar available. Game ticket must be purchased separately.
Register by: Thursday, March 23, 2023
Refund Policy
Cancellations received by March 23, 2023 will be honored with a full refund. No refunds will be issued after that date.
URI Foundation & Alumni Engagement welcomes individuals with disabilities to participate in its programs and activities. If you need accommodations or have questions about access to the event, please call 401.874.2242 at least five business days in advance. For TTY assistance, please call the R.I. Relay Service at 711.