Back to All Events
Women in Leadership Speaker Series: Lieutenant General Patricia D. Horoho U.S. Army, Retired
October 17, 2023
12-1 p.m. ET
Via Zoom
(Zoom link provided upon registration)
Register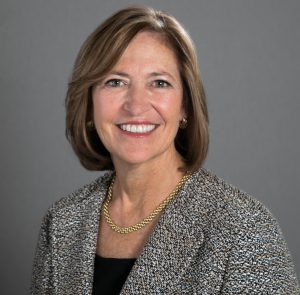 Retired Lieutenant General Patricia Horoho is the chief executive officer of Optum Serve, the end-to-end federal business of both Optum and UnitedHealth Group.
She is a values-based servant leader whose life calling is to improve the U.S. health care system with focuses in areas of health care delivery, health readiness, and health disparities.
Under General Horoho's leadership, Optum Serve has emerged as a nationally recognized thought leader for its expertise in the management of COVID-19 testing, and now serves as the operational arm for UnitedHealth Group's philanthropic support to citizens living in vulnerable communities.
General Horoho is also the founder and president of 2Serve Together Foundation, a nonprofit dedicated to the women who have served or are currently serving our nation. The organization was inspired by the pride she recalls in her late father (a Veteran of World War II, Korea, and Vietnam) when someone would thank him for his service, demonstrating the power of a thank you. She created a symbol that female service members could wear with pride to show the public that they have served or are serving, allowing them the opportunity to tell their story and be thanked.
General Horoho's distinguished professional career includes 33 years with the U.S. Army—retiring as a Lieutenant General, the 43rd Army Surgeon General, and Commander of the U.S. Army Medical Command. She made history being the first woman, first nurse, and non-physician to hold these posts. In these roles, General Horoho led the third largest health care system in the world, a global logistics, research and care network across five continents, with a multibillion-dollar budget and staff of more than 156,000.
General Horoho fully encompasses her mottos of Serving Together and Honored to Serve.
About the Women in Leadership Series
The Women in Leadership Speaker Series showcases the inspiring careers of highly successful and influential women and provides the opportunity to share their knowledge and experiences with students and alumni. The series is made possible by the URIFAE and the Women's Leadership Council.
URI Foundation & Alumni Engagement welcomes individuals with disabilities to participate in its programs and activities. If you need accommodations or have questions about access to the event, please call 401.874.2242 at least five business days in advance. For TTY assistance, please call the R.I. Relay Service at 711.