Back to All Events
Women in Leadership Series: Tolani Olagundoye, Pharm.D.'17
November 15, 2022
12-1 p.m.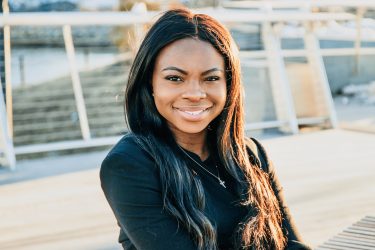 Register
Tolani Olagundoye, Pharm.D.'17 is a clinical assistant professor of youth leadership and the director of the 4-H Youth Development Program for URI Cooperative Extension. She earned her Pharm.D. in 2017 and joined the URI faculty in 2020. Tolani's role at the URI Cooperative Extension allows her to provide educational programs and experiential learning opportunities to undergraduate students and youth throughout Rhode Island. Tolani teaches courses in leadership in global environmental and health care crises, which explore leadership in careers related to the environmental and health science field. Through guided in-class discussions, students are equipped for ongoing reflection and action. As the director of the Rhode Island 4-H youth development program, Tolani helps to manage 4-H staff and develops hands-on programs, projects, and opportunities in science, agriculture, public engagement, and health for youth and families from diverse backgrounds. Tolani enjoys educating the next generation of authentic, effective, and resilient leaders in society.
Registration Deadline: Tuesday, November 15
Cost: Complimentary
URI Foundation & Alumni Engagement welcomes individuals with disabilities to participate in its programs and activities. If you anticipate needing accommodations or have questions about the access of the event, please call 401.847.2242 at least five business days in advance. For TTY assistance, please call the R.I. Relay Service at 711.