Back to All Events
URI vs. Loyola-Chicago Pregame Meetup
March 1, 2023
6-7:30 p.m.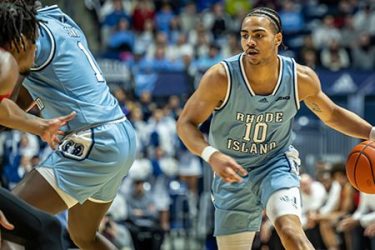 Register
Come cheer on your Rhody Rams men's basketball team in Chicago! The Rams travel to Loyola University Chicago to take on the Ramblers at Joseph Gentile Arena at 8 p.m. CT. Join fellow alumni for a pregame meetup at Porkchop Edgewater for complimentary appetizers before heading over to the arena.
Cost: $25 pregame reception and game ticket; $15 pregame reception only. Pregame reception includes appetizers. Cash bar available.
Register by: Thursday, February 23, 2023
Refund Policy
Cancellations received by Thursday, February 23, 2023 will be honored with a full refund. No refunds will be issued after that date.
URI Foundation & Alumni Engagement welcomes individuals with disabilities to participate in its programs and activities. If you need accommodations or have questions about access to the event, please call 401.874.2242 at least five business days in advance. For TTY assistance, please call the R.I. Relay Service at 711.