Back to All Events
URI Athletics Hall of Fame Dinner
February 17, 2023
5-8:30 p.m.
Newport Marriott
25 America's Cup Avenue
Newport, Rhode Island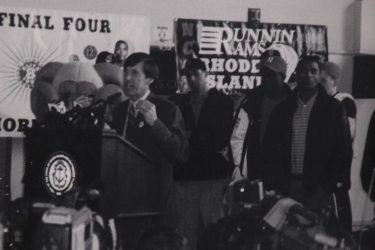 Register
Join URI Athletics for the Hall of Fame Class of 2023 Induction Ceremony as we honor the 1987-88 and 1997-98 men's basketball teams. Director of Athletics Thorr Bjorn and members of each team will recount the teams' achievements and share memories.
Registration Deadline: Thursday, February 9, 2023
Cost: $125; includes hors d'oeuvres, drink ticket, salad, dinner, and dessert. Cash bar available.
Entrée options:
Pretzel-crusted long line cod with lemon orzo, roasted broccoli, Mornay sauce
Rosemary roasted chicken with Grafton cheddar mashed potatoes, roasted green beans, lemon Mornay
Tomato pesto tortellini with heirloom tomatoes, broccoli, spring peas, organic pesto
Refund Policy
Cancellations received by Friday, February 10, 2023 will be honored with a full refund. No refunds will be issued after that date.
Support URI Athletics with a Sponsorship
Title Sponsor – $10,000
Dinner Sponsor – $7,500
Cocktail Reception Sponsor – $5,000
Award Sponsor – $5,000
"Ring of Honor" Inductee Sponsor – $2,500
Honoree Sponsor – $1,500
Benefactor Table Sponsor – $1,250
Please contact Garrett Waller, Associate Athletic Director, Development at 401.874.5287 to request a sponsorship.
___________________
URI Foundation & Alumni Engagement welcomes individuals with disabilities to participate in its programs and activities. If you need accommodations or have questions about access to the event, please call 401.874.2242 at least five business days in advance. For TTY assistance, please call the R.I. Relay Service at 711.