Back to All Events
TEDxURI 2023: The Creative Spark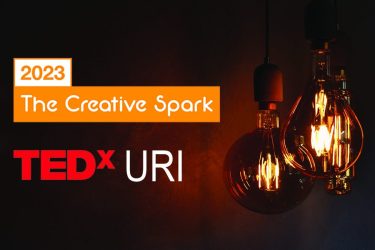 Register
Cost: $25 general admission; $10 all students. (High school and college students will be asked to show a valid student ID at the door.)
Register by: Thursday, March 30, 2023
Refund policy: All sales are final. NO REFUNDS will be given unless the event is canceled.
TEDxURI brings big ideas to the world stage through the inspirational voices and performances of our community and beyond. Our presenters challenge us to think bigger than ourselves, participate in shaping the future, and do our part in protecting the planet. Our mission is to honor these ideas, and share powerful stories of imagination, innovation, and integrity that will inspire others to Think Big.
"Our world is changing and creativity is our best response to change." —anonymous
Writer Maria Popova tells us that creativity is the "ability to tap into our mental pool of resources–knowledge, insight, information, inspiration, and all the fragments populating our minds…and to combine them in extraordinary new ways."
Creativity is everywhere in the human experience. It is not a skill reserved solely for artists and designers. It is a skill that is useful to everybody, no matter what you do or where your passions lie. Developing, nurturing and sharing our creative spark is more important than ever. That is why TEDxURI 2023 is focused on sharing inspirational, enlightening stories about creativity and the creative spark that started it all.