Back to All Events
Nearly Naked Mile 2023
April 13, 2023
4:30-6 p.m.
URI Quadrangle
Kingston, Rhode Island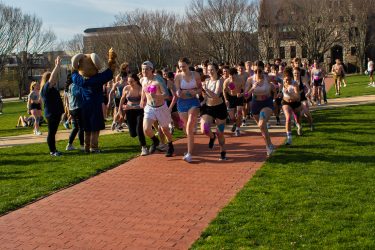 Register
URI's Nearly Naked Mile is back and putting a twist on the typical clothing drive! Get ready to run nearly naked or dressed in your best costume. Runners will contribute at least two articles of clothing at the beginning of the race to be donated to Rhode Island Center Assisting Those in Need (RICAN).
Cost: $0; 2 clothing donations mandatory.
Register by: Thursday, April 13, 2023
URI Foundation & Alumni Engagement welcomes individuals with disabilities to participate in its programs and activities. If you need accommodations or have questions about access to the event, please call 401.874.2242 at least five business days in advance. For TTY assistance, please call the R.I. Relay Service at 711.