Back to All Events
Lightspeed: The Race for a COVID-19 Vaccine
April 5, 2023
4:30-6:30 p.m.
Higgins Welcome Center
Hope Room
45 Upper College Road
Kingston, Rhode Island
Register
From the Anthony J. Risica Lecture Series
Hear the inside story of Pfizer's COVID-19 vaccine supply chain that produced over 5 billion doses and distributed them to more than 1.7 billion patients by the end of 2022. Jim Cafone '88, M.S.'90, Pfizer's senior vice president of global supply chain, will explain how the company successfully designed a supply chain for brand-new technology requiring a specialized, temperature-controlled transportation and distribution network—all in less than one year. For Cafone, unlocking a vaccine for COVID-19 and getting it to as many people as possible, as quickly as possible, felt like a moral imperative. Learn how his team rallied to meet that unprecedented challenge.
Lecture begins at 4:30 p.m.; reception to follow.
Cost: Complimentary; includes hors d'oeuvres and nonalcoholic beverages.
Register by: Tuesday, April 4, 2023
The annual Anthony J. Risica Lecture Series invites prominent leaders in engineering and business to share their knowledge with the campus community and public. The series was established in 2003 with a generous gift from Anthony Risica '78, a University of Rhode Island engineering alumnus.
About Jim Cafone '88, M.S.'90
Senior Vice President, Global Supply Chain
Pfizer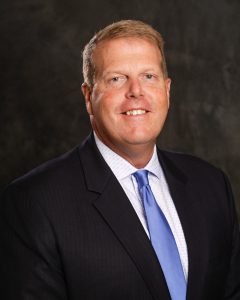 Jim Cafone has been with Pifzer since 2010. In his current role, Jim oversees global demand forecasting, demand and supply planning, worldwide logistics, and inventory management for Pfizer. In his previous role as vice president, network design and performance, Jim was responsible for business development, supply chain network design, Pfizer's lean production system, all performance reporting and analytics, innovation, and recognition programs.
Prior to joining Pfizer, Jim spent almost two decades with Wyeth Pharmaceuticals as part of the manufacturing and operations analysis team. He held numerous positions within manufacturing, materials management, customer order management, physical distribution, and information technology functions. This included vice president, EMEA manufacturing and supply (2003-2007) and vice president, worldwide logistics (2008-2009).
Jim holds a Bachelor of Science degree in industrial engineering, and a Master of Science degree in mechanical engineering, both from the University of Rhode Island. In addition, Jim holds a Master of Science in technology management from the University of Pennsylvania, College of Engineering, and the Wharton Business School. Jim resides in Collegeville, Pennsylvania with his wife and two sons. When the
weather permits, you'll find him deep sea fishing in the ocean somewhere off the East Coast.
URI Foundation & Alumni Engagement welcomes individuals with disabilities to participate in its programs and activities. If you need accommodations or have questions about access to the event, please call 401.874.2242 at least five business days in advance. For TTY assistance, please call the R.I. Relay Service at 711.