Back to All Events
Embracing Our Differences Guided Tour
February 7, 2023
11 a.m.-1 p.m.
Bayfront Park
5 Bayfront Drive
Sarasota, Florida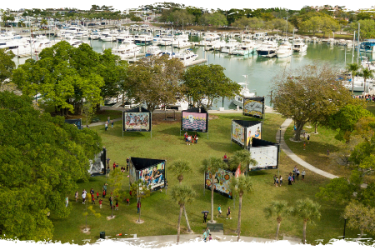 Register
Join the Southwest Florida alumni network for this exciting opportunity to explore a juried outdoor art exhibition sponsored by Embracing Our Differences, a nonprofit organization that uses the power of art and education to celebrate diversity. Enjoy a guided tour of the exhibit, which is installed at Bayfront Park overlooking Sarasota Bay, followed by drinks at Marina Jack.
Cost: $10; includes guided tour and one drink ticket at Marina Jack. Guests are welcome to order food on their own. Cash bar available.
Register by: January 31, 2023
Refund Policy
Cancellations received by January 31, 2023 will be honored with a full refund. No refunds will be issued after that date.
URI Foundation & Alumni Engagement welcomes individuals with disabilities to participate in its programs and activities. If you need accommodations or have questions about access to the event, please call 401.874.2242 at least five business days in advance. For TTY assistance, please call the R.I. Relay Service at 711.