Back to All Events
Alumni Travel Opportunity: Cruising the Great Lakes
September 25-October 2, 2023
Gohagan & Company
209 South LaSalle Street
Suite 500
Chicago, IL 60604-1446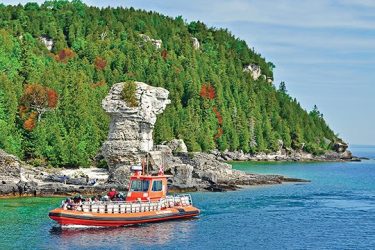 Download Brochure
Enjoy the beauty of North America's five Great Lakes!
URI Foundation & Alumni Engagement is excited to offer exclusive travel opportunities for URI alumni through Gohagan & Co. travel. Explore North America's rich maritime history aboard the exclusively chartered, five star small ship Le Bellot with exclusive guest speaker Ric Mixter. This seven-night program cruises all five Great Lakes with stops in Toronto, Detroit, and many smaller ports, with special excursions including a glass-bottom boat cruise around Flowerpot Island in Ontario and a full day in Niagara Falls.
Learn more in this video!
About Ric Mixter
Great Lakes historian Ric Mixter is one of the most requested maritime speakers in the country. Millions of television viewers recognize him as a shipwreck researcher, diving more than 100 shipwrecks in the Great Lakes, including the Edmund Fitzgerald. He has interviewed dozens of shipwreck survivors over the past 15 years, including two from the 1913 Storm, two from the 1940 Armistice Day Storm, and survivors from the largest shipwrecks in lakes Michigan, Huron, and Erie. Mixter, who has appeared as a shipwreck expert on the History and Discovery Channels, has been awarded for 20 years of maritime preservation by the Association of Great Lakes Maritime History.
Download the brochure for complete details.
More Alumni Travel Opportunities
Experience a rare daytime transit through the Panama Canal where mighty locks raise and lower vessels 85 feet to cross the Isthmus of Panama. Spend time in Panama City, then visit beautiful islands, rain forests, and national parks in Panama and Costa Rica, ending in the Costa Rican capital of San José. Presented by Gohagan & Company.

Presented by Alumni Holidays Travel. More information coming soon!

Presented by Gohagan & Comany. More information coming soon!

Presented by Alumni Holidays Travel. More information coming soon!