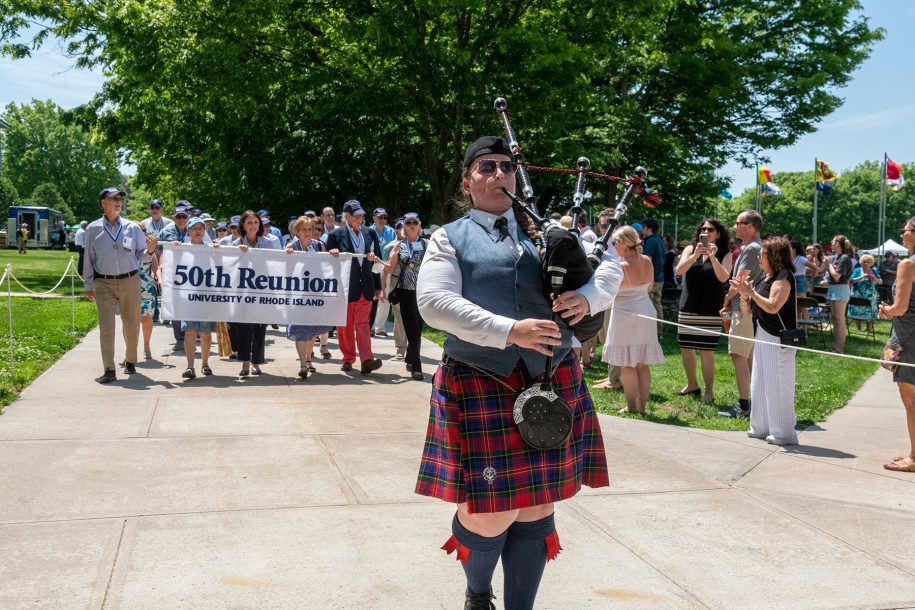 Save the Date: May 19-21, 2023
Plan to join your classmates on campus in May as the Class of 1973 celebrates 50 years as URI alumni. The reunion committee is working on a weekend of activities focusing on time to reminisce and reconnect as well as experience all the wonderful changes on campus since 1973. The reunion will end with the tradition of leading the class of 2023 in the march across the Quad during Commencement.
Contribute to the Class Gift
Making a gift in honor of this special milestone is a wonderful opportunity to leave a lasting legacy to URI. Direct your reunion gift to the program or area that means the most to you, such as your academic college, RhodyNow, athletics, or an endowment. All gifts will count toward the overall class giving total.
For more information contact Reunion Giving Advisor Joanne Gemma at 401.874.5514 or joannegemma@uri.edu.
Reunion Committee
Abu R. Bakr '73, M.S.'84, M.B.A.'88, P'93
Ronald F. Cascione '73, P'09
Kathleen C. McNulty Hendry '73, M.A.'77
Bill Loveless '73
MaryEllen Hartigan MacDowell '73
Susan Laffey Oertle '73
Memories from 1973

More memories…
Elaine (Melaragno) Boissevain '73: "November 9, 1965, I plugged in an illegal hot pot at my Merrill Hall dorm room and the entire eastern seaboard power went out! (I thought it was my fault.)"
Charles Jay '73: "Appreciate the education and the ROTC program…gave me a great foundation for the rest of my life."
Laima (Mockus) Price '73: "Best memory?? It was a time when we were all free to express our opinions and learn from each other. Forever grateful for my wonderful URI experience!"